Getting ready for a wedding can be a daunting task. But with proper planning, it can be easy for you. After the proposal, it's time to start planning for the wedding. But what are the things to do to get ready for a wedding?
First, you need to agree with your partner on the wedding priorities. You'll budget in line with the preferences to ensure that the wedding is exciting for you two. When coming up with priorities, be ready to compromise some things to be on the same page with your partner.
Budgeting for a wedding is essential. Wedding expenditures will spiral out of control if you fail to stick with your budget. In the end, you'll get irrelevant products and services. The other thing to do to get ready for a wedding is to compare the charges of different vendors to get the best fit for your budget.
Looking for a wedding venue and professionals should be done months before the wedding. The demand for top talent and unique venues is high. Some couples book twelve months before the wedding.
Looking good is essential to how you will feel on the wedding day. Establish fitness and skincare routines before the wedding. Make sure that you look amazing in your dress on your special day.
In this article, learn about ten ways to prepare for your wedding.
1. Budgeting for the Wedding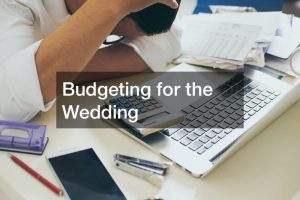 The first thing you should do to get ready for a wedding is write a budget. The budget helps in making vital decisions when planning. If family and friends contribute to the wedding, make sure you know how much they're willing to spend. If you're paying for all the bills yourself, look keenly at your finances.
With a rough view of actual/expected finances, you can choose the magic number. When writing down the budget, stick to the number. Many people find it hard to stick to the budget due to the urge to buy extra unbudgeted products in the first draft.
Minimize the chances of altering the budget to accommodate new extravagant wants, and there is no need to write a budget if you can't follow it. However, some changes are unavoidable, like rising charges for a wedding photographer or venue.
2. Coming Up with Wedding Priorities and Checklist
Have a chat with your partner about what you consider essential for the wedding day. Pick priorities that your budget can accommodate. Three priorities are enough to make your day enjoyable. They can include choosing a specific date or gazebo design venue, hiring a live band, and the number of guests to invite.
Once you have the aspects you want to prioritize, stick to them when planning. The big chunk of your budget will go towards financing the priorities. Don't go overboard to please visitors. It is you and your partner's big day.
Planning for a wedding can take up to a year. To ensure that you don't forget important details, create a checklist. The checklist can be written down on paper or typed on a desktop computer. Once you accomplish a task, go to the list and indicate it.
The list will help you plan on sending invitations, sticking to your budget, and keeping your guest list.
A well-thought-out list will help keep you from forgetting important things, and you'll be able to relax and enjoy your day if you are in a position to take care of everything on the checklist before the wedding day; your big day will be unstressful.
3. Choosing Bridal Style and Attire
When determining a bridal style, you can check out online sources like Pinterest, Instagram, and bridal sites for inspiration. Wedding magazines can also give you an idea of bridal styles and attires.
The bridal style will help when meeting with vendors. You'll be able to communicate what you need for your wedding to them. As the vendors prepare for your wedding, they'll ensure that you get the right service in line with your preferred style.
The standard wedding bridal styles include
Romantic style with a soft, feminine, and whimsical looking dress.

The traditional/classic style with a dress that has been in fashion for over twenty years.

Boho style, where the dress has a carefree and effortless vibe.

The modern style where the wedding dress is sophisticated, sleek, and cool.

The glamorous style where the dress has silhouettes, feathers, sparkly beading, and anything dramatic.

Edgy/Nontraditional style, where 'anything goes', is a dress that gravitates to the norm.
Remember your wedding dress will determine how you feel throughout the day. Also, you choose wedding flowers and undergarments.
4. Reserving a Wedding Venue
A wedding venue is more important than picking bridal attire. The planning of your wedding should revolve around the venue and date. That's why booking a venue should be among the priorities. Other things like food, photographs, and decor can be taken care of later.
If you look for a venue months before the wedding, you will tour different venues and compare features like costs and services. You'll be able to make some savings and ensure you get quality services.
Wedding planners advise couples to book venues between nine months to twelve months. However, the circumstances can change if you plan to have a wedding soon.
Also, reserving a wedding venue earlier will increase your chances of getting an ideal place for your set wedding date. Remember that other couples are also booking venues. It can be discouraging for you to change your preferred date to match the unbooked dates of the venue.
5. Booking an Officiant
A wedding officiant can be a pastor, priest, or rabbi. If you're planning to hold a wedding in a church or any other place of worship, you'll not need to book a professional officiant. The pastor or priest, in many cases, is involved in the planning. For instance, you'll have to pay a fee to hold the ceremony at the church.
Suppose you're planning a ceremony anywhere outside of a place of worship; you'll need to book a professional wedding officiant. Wedding planners advise that you should book an officiant nine months before the wedding date. Once your date and venue are set, you can book an officiant.
Booking on time will help you get the best professional services in your region. Other people in your area are also preparing for weddings. And as the law of demand predicts, quality professionals have many wedding ceremonies on their bucket lists.
Top talents receive bookings even a year prior. If you're late, you'll have to engage whoever is available.
6. Establishing a Fitness Routine
Every bride wants to look good on their wedding day. You'll reminisce about wedding photos ten years later if your dress fits your body shape perfectly. A glowing body look will make you feel good and comfortable throughout the wedding day.
Looking good for your wedding is not a mean fit. The following steps will help you achieve your desired body;
Start exercise twelve-weeks or more before the wedding if you're looking to add some tonnes

Targeted exercises are essential, especially if you know precisely the part of the body you want the dress to fit. Exercises like chest press and lat pull down will deal with your upper body, tri-sets will help in a shoulder exercise, and thrusters will activate your hamstrings.

Lunges and squats will target hamstrings, glutes, and quadriceps.

Generally, HIIT workouts with resistance/weightlifting exercises are good to keep your body fit for the wedding.
If you've a short time, like a month, to work out, high-intensity exercises can help.
7. Establishing Beauty/Skincare Routine
Glowing beautiful skin will make you feel good about yourself. Your partner deserves to have a glimpse of a beautiful queen. The guests are looking forward to seeing you. You've all the reasons to take care of your skin and beauty. Here are some bridal tips to keep your skin beautiful;
Avoiding stress

Asking for professional help to take you through the best routine with promised results

Timing your skin treatments wisely

Treating your skin from within by eating a healthy diet and exercising

Spot checking to see if the hard work is paying off
Start the skincare routine on time for guaranteed results. If you're thinking about incorporating cosmetic surgery or injections like botox, start the routine twelve months before the wedding. If you're going for a simple skincare routine, a week before the wedding is enough.
When selecting products to use for skincare, don't just pick them everywhere. Take time to research them. You can ask for advice from beauty professionals. For instance, if you require teeth whitening, you can visit a dental clinic or scout for teeth whiteners in your region to get advice on the best solutions.
8. Sending Invitations
You can send a wedding invitation in traditional or modern ways. A classical wedding invitation includes sending the main invitation, response card, and any other enclosure card which has important information like a reception card, accommodation card, wedding website card, or attire card. The modern way involves sending a save mail to your guests followed by invitation mail.
The appropriate time to send an invitation is six to eight weeks before the wedding. The time gap will give guests enough time to plan for your wedding.
Send a wedding invitation to everyone on your guests' list.
When sending an invitation, state the wedding time and ensure the RSVPs are due one month before the wedding.
9. Meeting With Vendors
Meeting with vendors is an essential step in preparing for a wedding. Vendors will supply you with products and basic services at the wedding. Examples of these products are wedding flowers, cakes, and attire. Primary services include photography, DJs, and live bands.
Here are some tips to make sure that you're well prepared for the meeting;
Setting your style and budget: With a clear budget and style, you'll avoid spending more on unplanned products.
Comparing prices: You can make some calls before the meeting to compare the charges of different vendors. The idea is to avoid spending too much on products and services you could get cheaper elsewhere.
Covering details: As you go for the meeting, bring a detailed list of every product or service you'll need at the wedding. Discuss all details with the vendor and see if they can provide the product or service.
Avoiding Ripoffs: Don't fall into vendor pressure, fluffy promises, and tacking off charges.
Some vendors are good salespeople and don't allow them to give you empty promises. You can talk to friends and family for vendor recommendations, or you can find them online.
10. Choosing a Wedding Party
At this stage, you'll need to choose who will stand with you at the wedding. You can get the preferable size of the bridal party by considering your wedding size. On average, couples select five on either side. Depending on the wedding formality, you can choose a higher or lower number.
After asking a person to be at your bridal party, it will be hard to go back. Think thoroughly before asking. Set expectations that are honest in describing the roles of the wedding party.
Don't stop wedding preparations on the big day. There's a lot to do after the wedding. For example, returning the Ferrari rental car and planning a honeymoon. If not, the post-wedding humdrum will spiral out of control.
You can insure both you and your partner. Find an affordable life insurance company online.
Conclusion/Outro
Getting ready for a wedding will relieve you from stress. You'll have a wedding day to reminisce about since you prepared on time. You're not the only couple thinking about having a wedding, booking a venue, and other professional months before the wedding day.
Establish a wellness plan to keep your body fit and look good for the big day.